Donate to the DDNN forum, Here!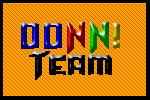 Welcome...
...to DDNN, This is a Team composed of 3 Leaders, DiamondDude, Nappse, NitroMatic. Here at the DDNN Team, we create games using a program known as Game Maker. Our aim to to create fun and entertaining games that the world can enjoy. If you want more information visit
About Us
.
Did you enjoy the site? If you did, help support the DDNN Team by joining our team forums! Click here to visit the DDNN forums.
The Website, Forums And Games Are © DDNN 2007 - 2008. Any Games That Are Not Fangames Are © DDNN And All Rights Are Reserved. Ask Permission Before Illegal Use Of DDNN Official Products! All Products Are Freeware!
Forumotion.com
Skin by: Jalokim